Directed Studio Practice: Lapidary!
For students with previous stone carving experience, this weekly class is an opportunity to work on independent LAPIDARY projects with answers and guidance offered by a professional! Finish up projects hiding in your bench. Get advice and delve into those designs swirling around in your head. This class is loaded with great bench tips to guide students through projects with success. Students discuss and work through designs one-on-one with the instructor, as well as in a group, if desired.
Technical demonstrations will respond to participants' interests and needs; cabbing, hand carving, mosaics, and stone setting are among the many possibilities.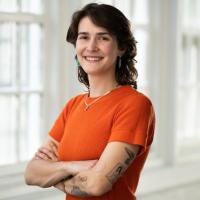 Allie is a Santa Clarita, CA native. During her younger years, she and her family rooted in a quaint town outside of Boston, MA. Allie later went on to attend Massachusetts College of Art & Design, where she graduated with a BFA in Jewelry & Metalsmithing.
Started in January 2020, Allie Keast Jewelry emerged as a creative means to capture and transform the many beautiful elements that surround and influence us. Inspired by her love of collecting ephemera; jewelry making has facilitated her desire to give these findings a new life.
Each piece is thoughtfully designed and meticulously crafted to last, using hand sourced and recycled materials from all over, but predominantly from the Northern East Coast.

Allie's work has been featured in Milano Jewelry Drops, MassArt and the Fuller Craft Museum. You can catch her at various Artisan Markets selling her work throughout New England.
When Allie isn't in her studio, you can find her scurrying the New England sea shores for lost shells and stones, or lounging with her best bud and ANK mascot, Rusty the bearded dragon.
Visit www.alliekeastjewelry.com to view Allie's work.
There is a $20 lab fee per student for the use of common supplies such as flux, solder, gas, replacement trim saw blades, lapidary wheels etc. which is paybale upon registration. All studio tools and equipment are available to use during class. Supplies for projects are provided by students but the instructor is happy to offer guidance before ordering.
Allie will be bringing her own collections of rough stones for each students to pick from. Pricing will be determined by the type of stone, size of the stone, and how many stones students want to purchase. Students can additionally bring in their own stones.
For students who wish to focus on hand carving or mosaic style work such as the "carved hands gestures' and "stone links" featured in images above, the following two items should be purchased prior to class (click vendor name in red):
Students should bring
any of their own rough stones

their own metal and favorite tools

studio apron

studio towel

notebook or sketchpad

pen or pencil

closed-toe shoes - required in the Metalwerx studio