Demystifying Decals for Enamel
This demo-focused virtual course will address all of the possible ways to incorporate waterslide decals into your enamelwork. After first addressing the commonalities between all of the possible decal choices, we will cover 'print your own' sepia decals, full-color digital decals, pre-printed vintage, and solid color decals. Emphasis will be placed on proper enamel color layering, application and firing, combining decals with other enameling techniques, and incorporating foils or metal luster embellishments. This class is great for enamelists that want to build on beginning skills and for artists interested in finding a bridge between metalworking and digital imagery.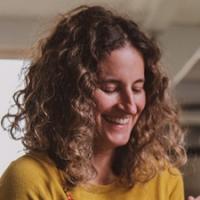 Jessica Calderwood is sculptor and jewelry artist working primarily with the mediums of metal, enamel, and marginalized crafts. She received her BFA from the Cleveland Institute of Art and her MFA from Arizona State University, with an emphasis Metalworking. Her work has been exhibited throughout the U.S. and internationally in curated and juried exhibitions. She has participated in artist residencies with the John Michael Kohler Arts/Industry Program, Mesa Arts Center, and several self-designed residencies with local industry. Her work has also been published in Metalsmith Magazine, American Craft, NICHE, Ornament, the Lark 500 series, and the Art of Enameling. She is currently an Associate Professor of Art at Ball State University in Indiana.
The instructor has put together a list of supplies that will be used for course demonstrations and objectives, which can be found by clicking HERE. Student participation during or in-between class sessions is not required - observers are welcome.