Curb Your Enthusiasm! Curb and Cuban Chains
Get ready to embark on a fascinating jewelry crafting journey as you discover the secrets behind creating a stylish curb chain, with the thicker and tighter style known as the iconic "Cuban chain".
In this technical and informative 2-day workshop, students will learn how to fabricate this intriguing chain style in sterling silver! After selecting and preparing their links, intricately soldering the links, and then forming their connected links into a chain, students will follow-up with shaping, filing, and applying a final finish. In addition to learning the methodology and technique behind fabricating a curb and Cuban chain, by the end of this course, students can expect to enhance their proficiency in pick and pallion soldering on a flat surface as well as pick soldering on a suspended chain.
From their completed chains, students can opt to save the chain for a future project, but will have the opportunity to construct a bracelet, earrings, or other piece of jewelry with time built into the course, implementing simple hand-fabricated findings for a bespoke look or pre-fab findings for ease and efficiency!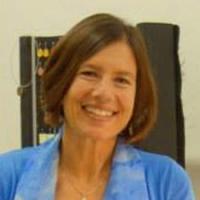 "Growing up, I always was mesmerized by sparkling gemstones and metals and I often incorporate something illuminating into my designs. Whether or not I intricately plan a jewelry piece in advance of producing it or just spontaneously fabricate one as I go along, the result is inevitably something that is unique with a contemporary flair that complements, rather than overwhelms, a wearer. When designing jewelry or other metal work, I always think about whether I would wear it, use it, and/or display it. Anyone who knows me sees a reflection of me in what I design.
I produce fine contemporary jewelry and other metal designs primarily in the precious metals of gold, silver, palladium, and platinum. These are often further defined with the addition of texturing, gemstones and other unique lapidary, or resin inlay. I also manufacture photo-etched metal jewelry and etched cover plates that are attached to journals or are framed--wedding invitations, bar and bat mitzvah invitations, baby announcements, and the like.
In addition to participating in art shows, sales, and doing commission work, I love providing instruction in jewelry design and metal fabrication. My work can be seen and purchased at galleries and stores, as well as in my own online store. Designing and fabricating engagement and wedding bands and other jewelry, often with people's stones, is particularly meaningful to me."
-Wendy Jo
There is an $87 materials fee for this workshop payable upon registration. The materials kit cost covers three packs of 14g sterling silver jump rings (4mm), two packs of 16g sterling silver oval jump rings (3.2mm), long-life hard charcoal block, sterling silver round wire (18g, 20g), sterling silver flat end clasps, sterling silver lobster clasps, and the use of various other studio materials and consumables needed to complete project objectives.
Students should bring
Sharpie marker

glasses - if needed

2 x flat and/or short needle nose pliers - if you have your own

studio apron or studio clothing

studio towel

notebook or sketchpad

pen or pencil

closed-toe shoes - required in the Metalwerx studio

lunch - Metalwerx has a fridge, toaster oven, and microwave