Cloisonné Enamels
Have you done a little enameling? Want to kick it up a notch? This virtual course jumps fully into the technique of cloisonné enamel. In cloisonné, thin wire is used to create walls and line work within enamel and can allow for a sharp separation of color, creating high contrast imagery. Within the "cells" created by the wire you can use one or multiple colors, opaque and transparent enamels. Offering a myriad of design possibilities and results!
Participants will be shown step-by-step how to create their first cloisonné piece, bending the wires, firing, wet packing, and how to finish the enamel surface. Problem solving your design in cloisonné wire will be discussed as well. Participants should expect to work out of class and follow along with the demonstrations, so they can come to class with questions. 
For more information about virtual courses, visit our Virtual Course FAQ page. 
Please read the Materials & Tools tab!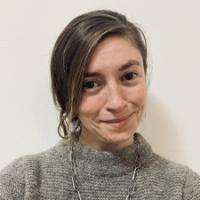 Jennifer Wells is a studio artist and educator originally from the U.S but currently living in Italy. She holds an MFA, in Metalsmithing & Jewelry Design and has completed artist-in- residencies at: Arrowmont School of Arts and Crafts in Gatlinburg, TN, Pocosin Arts in Columbia, NC and the Jentel Foundation near Banner, WY. She has worked for several U.S based Craft Schools, in a variety of roles.
As an educator, Jennifer has taught for and been a visiting Artist at Universities throughout the U.S and for study abroad programs based in Italy. She serves on the Board of Vita Institute and teaches short workshops on various enameling and metalsmithing techniques throughout Europe and the U.S. In recent years she has curated multiple international exhibitions focused on jewelry and enameling.
Her works are in the collections of the Enamel Arts Foundation, Racine Museum, All Russian Museum of Decorative Arts, Arkansas Museum of Fine Arts, Yale University Art Gallery, Crocker Art Museum and Private Collections.
The following supplies will be used for course demonstrations and objectives. A suggested item and/or vendor has been provided below for reference. Click the vendor name (in red) to be redirected to a page where you can find the item. The quantities needed for each item are listed first. If ordering, please be aware that some items may come in larger quantities than needed for this class. We recommend not opening an item's packaging until the day of the workshop. Student participation during or in-between class sessions is strongly encouraged but not required - observers are welcome.
Metal/raw materials:
Enamels (Note the enamels below are suggestions - if you have a collections of Thompson enamels, you can use those. Instructor will be using W. G. Ball enamels):
Hand tools:
Enameling setup with kiln:
Enameling setup with torch:
all enameling items listed above - minus kiln
1 x torch setup - Silversmith or similar style  (Rio Grande)
1 x #2 or larger torch tip - if using Silversmith (Rio Grande)
1 x striker or lighter - Silversmith system has one (Rio Grande)
1 x tripod or fire bricks with screen (Rio Grande)
Other/miscellaneous items: 
hard work surface
fan and open window or ventilation system
safety glasses 
ear protection
pencil and notebook - note taking
rags/towels
paper towels
old toothbrush
distilled water
old magazines
Elmer's glue
ajax / bar keeper's friend
square / block eraser
dust mask - N95 suggested
2oz jars with lids - 1 for each enamel
pliers with different noses - to help bend wire