Clasps and Closures for Necklaces
The findings on a necklace are often a neglected design elements that, when executed properly, have the potential to add a lot of personality and elevate the overall aesthetic of a piece of jewelry. Many makers will opt to buy prefabricated findings to streamline production, but what if you want to make your own? In this technique-oriented 1-day workshop, students will learn how to make two such clasps that are effective, customizable, and easy to produce.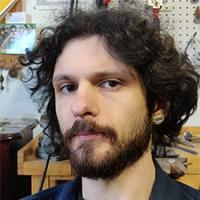 William Vanaria is a Massachusetts based artist with a penchant for oddball materials. His work utilizes traditional metalsmithing techniques and a wide verity of non-traditional materials to produce jewelry which both questions and comments on notions of romanticism, value, fakery, and the hierarchy of materials present within modern day consumer culture. Through his work he pushes for a broader system of value which has been formulated though experience, consideration, and critical thinking.
William received a Bachelor of Fine Arts degree from the Massachusetts College of Art and Design with a concentration in "Jewelry & Metalsmithing" in 2012. Afterwards, he spent time working within the jewelry industry and volunteering as a teacher's assistant for various art institutions. He found that the latter was much more fulfilling, so he went on to further his education within the arts and to pursue a career in teaching. William received his Masters of Fine Arts degree from the University of Massachusetts: Dartmouth in 2016; once again with a concentration in "Jewelry & Metalsmithing."
There is a $35 materials fee for this workshop that is payable upon registration. The materials kit includes sterling silver sheet metal (16g), sterling silver tubing (3mm), drill bit (2.9mm), sterling silver end caps, round ball bur, sterling silver wire (14g), sterling silver jump ring, drill bit (1.6mm), and other miscellaneous materials needed to complete class project.
Students should bring
sketchbook, pen / pencil

reading glasses - if needed

closed toe shoes - required in Metalwerx studio

Sharpie fine point marker