Chain Maille: Targs Collar Bracelets and Earrings
In this demo-focused virtual workshop students will learn the Targ's Collar chain maille weave designed by Daniel James Gordon Miller. The objective of the course is to complete a Targ's Collar bracelet and pair of earrings in sterling silver. Students will learn how to expertly construct the weave structure, how to add two clasp styles to maximize enhance possibilities, and how to modify the weave structure to create a pair of stunning earrings.
To enhance their technical aptitude, students will additionally learn how to join the ends of the weave together to create a continuous chain that does not require a clasp.
Students will receive 60 days of access to video recordings of class for review and practice, and a PDF download documenting each step of the process directly from the instructor.
This class is intended for intermediate/advanced level chain maille students. It is assumed that all students who enroll are proficient weavers, know the difference between Through-the-Eye and Around-the-Eye connections, and understand gauge, inner/outer diameter, and aspect ratio. Students who enroll in this class should know how to make both left and right-leaning Mobius units. Students should also be comfortable working with complex patterns and weaving with small jump rings. The ability to construct Hoodoo Hex is helpful but not required.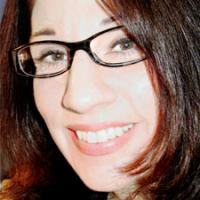 Jewelry designer and author, Karen Karon, has been weaving maille for well over a decade. She teaches chain maille and scale maille classes and workshops at Metalwerx School for Jewelry and Metal Arts, at local venues, and also provides private chain maille/scale maille instruction. In addition, Karen is a certified PMC (Precious Metal Clay) artisan. Karen has written articles for Art Jewelry, Bead Style, Bead&Button and Step by Step Wire Jewelry magazines and is the author of Chain Maille Jewelry Workshop and Advanced Chain Maille Jewelry Workshop, both published by Interweave. Her jewelry can be purchased at Loveday in West Concord, MA.
See Karen's work on her website (karenkaron.com) or visit her on Facebook and Instagram.
The following supplies will be used for course demonstrations and objectives. A suggested item and/or vendor has been provided below for reference. Click the vendor name to be redirected to a page where you can view the item. The quantities needed for each item are listed first. If ordering, please be aware that some items may come in larger quantities than needed for this class. We recommend not opening an item's packaging until the day of the workshop. Student participation during or in-between class sessions is not required - observers are welcome.
Hand tools:
Targ's Collar requires 2 sizes of jump rings.  Use the RPI count to determine the number of small and large jump rings you will need for your bracelet.  Add one additional inch worth of small and large jump rings to account for earrings and connecting rings.
| | | |
| --- | --- | --- |
| METAL | ITEM/SIZE/RINGS PER INCH (RPI) | SOURCE |
| Sterling Silver | Jump Rings, 18awg, Round, 2.875mm id (small); 26 RPI | |
| Sterling Silver | Jump Rings, 18awg, Round, 4.0mm id (large); 26 RPI | |
| Sterling Silver | 1 Tube Slide Clasp, 2-Strand (for bracelet) | |
| Sterling Silver | 2 Teardrop Beads, 1.8x8.1mm (for earrings) | |
| Sterling Silver | 1 Pair of Ear Wires with Loop and Ball End (for earrings) | |
NOTES:
The materials listed have been tested.  Results cannot be ensured if other materials are chosen.

It is good practice to order a small amount of extra jump rings in case of marring or loss.

Students should order supplies at least 2 weeks prior to the first day of class to ensure timely delivery.

Enrolled students with specific questions about ordering supplies may email me at [email protected].