Basic Lapidary Techniques
Every jeweler eventually tires of buying typical stones and setting them in conventional settings. Come spend three days with Michael Boyd, and learn how to cut and polish your own cabochons with limitless shape, size, and color options.
This class will introduce you to the world of lapidary arts and you will leave with the skills needed for the advanced class that immediately follows. All necessary lapidary equipment needed to produce unique jewels will be provided. Michael often brings a large supply of rough material to purchase, but students are welcome to bring in any stones they wish to work with.
A frequent presence in our Summer Masters series, Michael is an internationally recognized lapidary artist and master of bezel setting who has worked in the field full time for more than two decades. "The stone is as important as the metal. I am looking for an integration of the media, a manipulation and blending of the two: Using stone as a medium, not as an accessory." - Michael Boyd
If you'd like to see more of Michael's work, visit his website www.michaelboyd.com.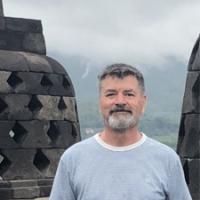 Michael Boyd is is an internationally known artist. His unique creations in stone and metal are found in numerous private collections and have been widely exhibited at important juried shows, as well as prestigious galleries and museums including Ladyfingers Gallery in Carmel, CA, Patina Gallery in Santa FE, NM, the Aaron Faber Gallery and the Museum of Art and Design in New York.
Formally trained in painting and ceramics, for the past thirty years Michael has focused his creative work in jewelry making, a medium in which he is primarily self-taught. Michael is a generous and inspiring teacher who shares his skills in private workshops and at universities around the country, including Colorado State University, Bowling Green State University and the University of Alaska.
Michael has presented at the prestigious Society of North American Goldsmiths Conference in Denver. Active in the local arts community, Michael has served as a trustee/board member of the Sangre de Cristo Arts and Conference Center in Pueblo, the Colorado Metalsmithing Association and the Pueblo Arts Alliance.
Michael's newest endeavor, the creation of the Colorado Center for Metal Arts, a teaching and community art center, has helped revitalize the Historic Arts District in Pueblo, Colorado.
Lapidary supplies (diamond bits, high grade epoxy, etc.) will be available for students to purchase as needed for individual work. If students wish to get a kit, it is estimated at $85. Rough stones will be available for sale as well and are priced per gram or carat.
Students should bring
any of their own rough cut stones or gems

any of their own metal that they may wish to use

closed toed shoes - required in the Metalwerx studio

any of their own favorite tools - Metalwerx is equipped with communal studio tools

pen/pencil and notepad for notes and sketching

lunch