3D Filigree
Say goodbye to flat filigree and take yours to new levels of interest as Victoria demystifies all of her intricate 3D filigree structures. Discover her no-fail method to understanding the process as you learn to think in dimensional filigree, then move on to the complex forms including twist-ups, mobius puzzles, and fabric folds for which Victoria is famous.
We'll start out with a small sculptural pendant to discover all the technical considerations needed to bend and form soldered filigree. Next we'll unlock the secrets for designing your own sculptural forms. Learn what shapes of frames and filling styles lend themselves to what types of bending, the different tools and ways to bend, how to avoid wires becoming unsoldered, and how to fix them when they do. Expect to complete at least 1-2 projects.
This is an intermediate and above filigree workshop and will focus on designing and fabricating beyond the very basics, so it is essential that you already know how to twist filler wire and how to construct and fill filigree frames. You don't have to be a master filigree worker, but you do need some experience with tension fitted, open back, filigrana, Russian filigree, or Yeminite filigree. If you learned from Victoria's Russian Filigree video or studied with her, Milt Fischbein, or another of Victoria's longtime students and gone on to make at least a few pieces, this class is for you.
This class meets on Tuesday and Thursday, two weeks in a row.
For more information about virtual courses, visit our Virtual Course FAQ page. 
Please read the Materials & Tools tab!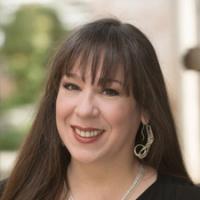 Victoria Lansford works across multiple artistic media and is best described as a "one woman, big city, symphony orchestra." Lansford has spent over 40 years working in the visual, literary, and performing arts to paint with fire, forge with words, and choreograph with color, line, and texture. Her award winning and genre busting art and fine craft combines centuries old techniques with cutting edge technology to create artwork that ranges in scale from wearable to hangable to architectural. Her painstakingly intricate art is made from precious metals, gemstones, ink, paint, skins, paper, hammers, punches, pliers, gravers, brushes, pencils, pens, or quills and takes many forms including art jewelry, craft objects, miniature paintings, calligraphic artist books, and metal screens. All of her designs revolve around the interplay of negative and positive space, the origins of the universe, and mythological archetypes to bring forth external displays of feminine power.
Lansford's art has has been widely exhibited in galleries, museums, and publications, including the Lark 500 book series, Metalsmith and Jewelry Artist magazines, Repousse and Chasing (Brynmorgen Press), and on Home and Garden Television. She has created a world-wide renaissance for many, old world, fine metal techniques through her sold out workshops, videos, books, articles, and apps.
Lansford's most recent large-scale commissions were for one of the world's largest, bespoke, superyachts: a floor to ceiling, etched copper screen and Eastern repousse double doors, both depicting oceanic scenes. She won a 2019 Independent Publishers Award for Best Design and a 2020 e-Lit award for her ground breaking, animated ebook Giving Voice (Spiral Publications) with introduction by best-selling author of the Griffin and Sabine trilogies Nick Bantock.
Lansford lives in Atlanta, GA with her husband Chris, son Skyler, and two Shelties Boudica and Elizabeth
The following supplies will be used for course demonstrations and objectives. A suggested item and/or vendor has been provided below for reference. Click the vendor name (in red) to be redirected to a page where you can find the item. The quantities needed for each item are listed first. If ordering, please be aware that some items may come in larger quantities than needed for this class. We recommend not opening an item's packaging until the day of the workshop. Student participation during or in-between class sessions is strongly encouraged but not required - observers are welcome.
Metal/raw materials:
3ft x square sterling wire - 18g / 1mm (Rio Grande)
1 x jar of Russian filigree powdered solder (Victoria)
6ft min. x pre-made fine silver Russian filler wire - 26g (Victoria)
or
12ft min. x round fine silver wire - 26g  / 0.4mm (Rio Grande)

get this item if you plan to make your own filigree wire
Torch setup:
1 x fireproof torch area - steel baking sheet will work (Amazon)
1 x compressed charcoal block - hard (Rio Grande)
1 x torch - Smith mini, Silversmith, or butane (Rio Grande or Rio Grande)
1 x #0 or #1 torch tip - if getting Silversmith (Rio Grande)
1 x soldering tweezers (Rio Grande)
1 x soldering pick (Rio Grande)
1 x paste flux (Rio Grande)
1 x 6" silver solder - hard (Rio Grande)
1 x 6" silver solder - easy (Rio Grande)
1 x copper tongs - for pickle (Rio Grande)
1 x pickle - sodium bisulfate or citric acid (Rio Grande or Amazon)
1 x crock pot or lidded glass container - for pickle (Amazon)
1 x tempered glass container or sink - for quenching and rinsing
2 x small brushes - for flux
1 x liquid hand soap - for cleaning metal
Hand tools:
Suggested for clean up: 
Other/miscellaneous items: 
distilled water - for mixing with powdered solder
hard work surface
dust mask
safety glasses 
fan and open window or ventilation
fire extinguisher