2D to 3D: Creative Hollowform Fabrication
Unlock your creativity and learn to add captivating volume to your creations through the timeless and enticing hollowform format of construction. This advanced metal-working application will elevate your work to new heights, turning ordinary flat sheet metal into intriguing, three-dimensional feats of fabrication.
Guided by a seasoned artisan, student will take their first steps into building with volume in mind, applying numerous jewelry making techniques an approaches along the way. From the flicker of a torch as students learn to lead solder seams with precision, to scoring and folding for crisp and defined lines, you'll master each technique, slowly but surely building up your knowledge and adding another notch onto your jewelry making repertoire.
Discover the joy of crafting intricate box mechanics that will leave others under your technical and creative spell! Watch as your creations morph from mere 2D shapes into unique boxes, small sculptures, or exquisite jewelry pieces.
Join us in our "virtual classroom" for this demo-focused virtual course and let your creativity run wild as you transform metal into 3D art. Unveil the technical artisan within and create your own timeless treasures that will inspire and captivate!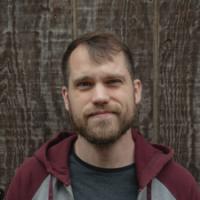 Adam Atkinson is a metalsmith, curator, and educator. He received an MFA in Metal Design at East Carolina University in 2019, and a BFA in Interdisciplinary Studio Practices at Boise State University in 2013. His work has been exhibited nationally and internationally including the Wayne Art Center, Boone Art and History Museum, and Nagoya Zokei University, Nagoya, Japan, among others. He has been awarded numerous residencies including the Emerging Artist Residency at the Baltimore Jewelry Center and the three-year residency at Penland School of Craft. He teaches widely across the United States.
The following supplies will be used for course demonstrations and objectives. A suggested item and/or vendor has been provided below for reference. Click the vendor name to be redirected to a page where you can view the item. The quantities needed for each item are listed first. If ordering, please be aware that some items may come in larger quantities than needed for this class. We recommend not opening an item's packaging until the day of the workshop. Student participation during or in-between class sessions is not required - observers are welcome.
Metal / raw materials:
6"x6" x copper sheet - 20g

2" x sterling silver heavy wall tubing - 2.75mm

2' x round brass wire - 16g
Torch setup:
Hand tools:
Other/miscellaneous items:
drying rag / towel

sketchbook

pencil

scissors

extra fine point sharpie

rubber cement

isopropyl alcohol