Tools and Jigs for Multiples
Creating findings that combine form with function will add to the uniqueness of your jewelry designs. The challenge is in duplicating them. In this onsite workshop Jayne Redman will show you how by introducing you to the many methods of making tools and jigs she has developed.
This workshop will focus on ways to duplicate three dimensional shapes and unique findings including ear wires, linkage systems, and clasps. You will make a series of tools that will give you time saving ways of measuring, cutting, connecting and forming sheet and wire accurately in coils or circles and straight lengths.
You will modify pliers to create perfect wire loops with accurate inside diameters, tapered tube crimps to attach tubular clasps to chain or neck wire coils, notches in handmade ear posts, and specialty forming pliers.
Hard and thermal reactive plastics are perfect for forming tools and jigs that won't mar metal. Some of the tools you will make include a "u" tool for conforming both sides of a shape at once, pushing tools that model metal in various ways, and a fingernail tool that will slide over and under shapes to be bent and assist in closing loops. You will make several variations of jigs for single and reverse curve ear wires and linkage systems of your own design. These methods can also be used for perfectly duplicating cloisonné wires.
You will gain the knowledge to comfortably modify existing tools and invent tools and jigs of your own design. You will be able to make exact duplicates of your forms and findings, enhancing your craftsmanship and adding appeal to your jewelry.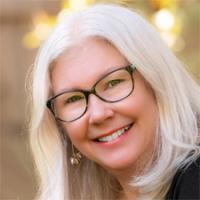 Nature provides an endless reference for imagination and invention. The linear quality of stems and the fullness of flower buds inspire my jewelry. I enjoy integrating mechanics with design, allowing each piece to function in a visually intriguing way. I work with multiples of the same shape engineering them to fit precisely giving an abstract impression of their botanical origin. Many years of metalsmithing have taught me the power of simplicity. My forms begin as flat metal shapes and arrive as small sculptures. Their complexity is in their conception as curving planes of origami.
Jayne Redman earned her B.F.A. in Jewelry and Silversmithing from Maine College of Art in 1977. She began her jewelry career in the fashion jewelry industry in New York as a design and production assistant. She started her own company, Jayne Redman Jewelry, in 1982. She has exhibited at numerous fine functional art shows and is represented by fine jewelry galleries and craft stores across the country. Her tools for Making Multiples are available on her website, www.jayneredmanjewelry.com. Jayne is a former faculty member of the Maine College of Art Department of Jewelry and Metals. She teaches workshops nationally and at her studio in Falmouth, Maine.
There is an estimated $130 materials fee payable to the instructor at the end of this workshop. Jayne will supply all materials needed to build jigs, in addition to other supplies needed for workshop purposes. 
Students should bring
Metalwerx has a limited quantity of the following available for studio use, but we recommend you bring your own if you have it or do not want to share and wait for them to become available during class.
5" deep saw frame 

Bur life

Center punch like Rio Grande #118117 or 1.5mm ball bur any brand

Dividers like Rio Grande #116010

Flat hand file, #0, or #1 cut

Rubber cement

Double stick tape

Tracing paper and white printer paper

Drawing materials including rulers, Sharpie markers, pencils and erasers, compass, plastic templates, X-acto knife

Apron, dust mask, eye magnification and protection