Textured Bangles
Learn a quick and easy way to make textured bangle bracelets, from a smooth satin finish all the way to a hammered cross-hatch surface! This demo-centered virtual workshop will focus on forming a stack of bangles utilizing copper and sterling silver. Students will learn how to texture and forge their metal into different shapes and patterns using numerous metalsmithing hammers. The class will discuss a variety of hammer striking methods and how to best control your hammer mark! To finish, the class will learn how to close their bracelets using the riveting method (a techniques that requires no torch / heat). The instructor will also cover how to oxidize your metal to create a bold, black patina on the surface of the metal. Each bangle can be embellished with a different texture or designed as a uniform set.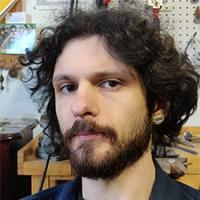 William Vanaria is a Massachusetts based artist with a penchant for oddball materials. His work utilizes traditional metalsmithing techniques and a wide verity of non-traditional materials to produce jewelry which both questions and comments on notions of romanticism, value, fakery, and the hierarchy of materials present within modern day consumer culture. Through his work he pushes for a broader system of value which has been formulated though experience, consideration, and critical thinking.
William received a Bachelor of Fine Arts degree from the Massachusetts College of Art and Design with a concentration in "Jewelry & Metalsmithing" in 2012. Afterwards, he spent time working within the jewelry industry and volunteering as a teacher's assistant for various art institutions. He found that the latter was much more fulfilling, so he went on to further his education within the arts and to pursue a career in teaching. William received his Masters of Fine Arts degree from the University of Massachusetts: Dartmouth in 2016; once again with a concentration in "Jewelry & Metalsmithing."
A $35 supply kit will be sent to the shipping address you have listed on your Metalwerx account. Kits will be mailed out a week prior to class. If you register after this date, the kit can still be mailed to you, but may not arrive by the workshop start date. Please inform us if you reside outside of the US, as your shipping cost will differ and may need to be expedited. Kit includes the following items:
The following supplies will be used for course demonstrations and objectives. A suggested item and/or vendor has been provided below for reference. Click the vendor name to be redirected to a page where you can view the item. The quantities needed for each item are listed first. If ordering, please be aware that some items may come in larger quantities than needed for this class. We recommend not opening an item's packaging until the day of the workshop. Student participation during or in-between class sessions is not required - observers are welcome.
Torch setup:
Hand tools:
Other/miscellaneous items: 
Students should bring
writing utensil & notebook
any personal jewelers tools that you enjoy using
glasses (if needed)