Textural Embellishment: Surface Explorations in Metal
In this demo-focused virtual workshop students will be exposed to a variety of surface embellishment techniques for metal, including chasing, etching, reticulation, solder inlay, and painting with metal. The surface techniques demonstrated in this course have the ability to enhance and transform metals, causing the material to resemble another or allowing for the transfer of imagery onto the metal. Students can expect to leave the course with a broad array of knowledge and a readiness to explore a variety of new techniques.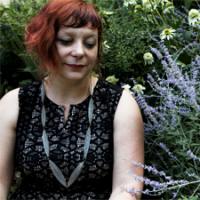 April Wood is a metalsmith and jeweler living and working in Baltimore, MD. She is a co-founder of the Baltimore Jewelry Center, a metals + jewelry community education space in Baltimore city, where she worked as Studio and Program Manager, Exhibitions Director, and an Instructor. She received her BFA in Studio Art, concentrating in Metals/Jewelry, from Texas State University – San Marcos and her MFA from Towson University. She has taught at the Maryland Institute College of Art, the Corcoran College of Art and Design, Penland School of Crafts, Idyllwild Arts Academy, and Towson University. Her work has been featured in Metalsmith, Surface Design Journal, and Sculpture. She exhibits her work nationally and internationally, including a solo exhibition at the Austin Museum of Art and SIERAAD International Art Jewelry Fair in Amsterdam.
The following supplies will be used for course demonstrations and objectives. A suggested item and/or vendor has been provided below for reference. Click the vendor name (in red) to be redirected to a page where you can view the item. The quantities needed for each item are listed first. If ordering, please be aware that some items may come in larger quantities than needed for this class. We recommend not opening an item's packaging until the day of the workshop. Student participation during or in-between class sessions is not required - observers are welcome.
Metal/raw materials:
Torch setup:
1 x fireproof area - steel sheet, tiles, etc. (Amazon or Home Depot)

1 x Solderite™ pad / pan with pumice (Rio Grande or Rio Grande)

1 x torch - Smith mini, Silversmith, or butane (Rio Grande or Rio Grande)

1 x #0 or #1 torch tip - if getting Silversmith (Rio Grande)

1 x striker or lighter - Silversmith system has one (Rio Grande)

6" x silver solder - hard (Rio Grande)

soldering "furniture" such as bowl of water, cleaning agents, etc.
Other/miscellaneous materials: