Sheet Metal Tab Settings
Explore all the ways that metal can be used to create one-of-kind settings that will "trap" and hold all your precious objects from gems and stones to found materials. Learn techniques and tricks of tab setting using basic tools like a jeweler's saw, drill, and files to create your own unique settings in sheet metal. This two-day workshop will cover making patterns, sawing, filing, sanding, and setting stones.     
For more information about virtual courses, visit our Virtual Course FAQ page.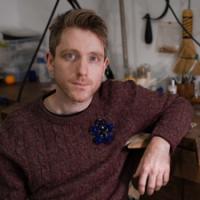 Everett Hoffman is an artist, writer, and independent curator. He is currently a Resident Artist at Penland School of Craft, where he lives with his partner Adam and their cat Snarf. He received his MFA from Virginia Commonwealth University 2018, and BFA from Boise State University 2013. Everett was a 2018-19 Artist in Resident at Arrowmont School of Art and Craft, and a Resident Artist at the Baltimore Jewelry Center. His current body of work examines everyday material debris reconstructed within the intersecting narratives of identity, gender, and sexual desire. Everett's work has been exhibited throughout the United States and internationally including the Virginia Museum of Contemporary Art, Contemporary Craft Museum, Pittsburgh, PA, Soil Gallery, Seattle, WA, and the Benaki Museum in Athens Greece.
View Everett's work at www.everetthoffman.net.
The following supplies will be used for course demonstrations and objectives. A suggested item and/or vendor has been provided below for reference. Click the vendor name to be redirected to a page where you can view the item. The quantities needed for each item are listed first. If ordering, please be aware that some items may come in larger quantities than needed for this class. We recommend not opening an item's packaging until the day of the workshop. Student participation during or in-between class sessions is not required - observers are welcome.
Metal/raw materials: 
3"x3" min. x brass sheet - 22g (Rio Grande)

assorted size and shape stones - 8mm or bigger (Rio Grande)
Hand tools:
Other/miscellaneous items: ​
hard work surface

fan and open window - or ventilation system

particulate dust mask

safety glasses 

pencil / pen

Sharpie

notebook

steel ruler

scissors

card stock