Pulse Arc Welding Lesson w/ David Baird
Pulse arc welding lessons are available from April through June. Metalwerx will put students in touch with the instructor after registration has been completed, to schedule the dates / times of the lesson.
Micro pulse arc welding is widely known to be a useful tool to increase efficiency with basic bench tasks such as ring sizing, connections near heat-sensitive stones, and repairing porous castings. It works well on gold, silver, stainless steel, titanium, platinum, and copper, whether connecting tiny jewelry components or larger elements for small metal sculptures. Our pulse arc welder can go well beyond these general jobs to include tacking complex pieces before soldering, welding long seams for hollow construction, and connecting dissimilar metals such as titanium to gold.
We have designed a hands-on private class that covers a wide variety of weld tasks and tricks possible to enhance student's current process. Our tailored certification gives students time to practice applications so they can become qualified to rent time on our Orion 200i Welder.
Each student will start out learning the principles and maintenance of micro Tungsten Inert Gas (TIG) welding. Weld preparation, shaping electrodes, weld settings, and finishing methods will be covered through a series of exercises to develop skills and techniques. Demonstrations and student practice will cover most used tasks; attaching an earpost, sizing a ring, closing jump rings, different joint types, balling the end of a wire, spot welding, filling porosity, attaching bezels and settings, using filler wire, and any special advanced requests that we can accommodate.
Tuition covers 6 hours of instruction and practice time with David Baird. These dates and times are flexible and can be adjusted directly with the instructor after registration has been completed. Please contact us at [email protected] if you have any questions.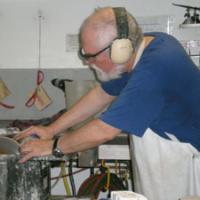 David Baird has been making jewelry for nearly four decades. He received his bachelor's degree at the Evergreen State College, and his MFA from The School of the American Craftsman at Rochester Institute of Technology. He also has a GG (Graduate Gemology certificate) from the GIA.
David sells his work nationally and has taught classes and workshops for at least 30 years around New England including Metalwerx, DeCordova Museum School, and Lexington Arts and Crafts Center. More recently he has been developing specialized jigs to make bench processes easier for his students. The Directed Open Studio courses at Metalwerx are led by David because of his vast knowledge about the many facets of metalworking.
Over the past 15 years, David has expanded his repertoire to include lapidary cabbing and carving. He now devotes his time between two studios, both lapidary and jewelry, taking on commissions by request. His studio is located at the Waltham Mill Buildings, near Metalwerx where still he teaches regularly.
There is a $50 materials kit included with this lesson.The kit includes filler wire, copper in various gauges and dimensions, copper jump rings, sterling silver in various gauges and dimensions, sterling jump rings, ear posts, prong settings, a ring blank, fine silver bezel wire, personal rubberized pulse ark eye sockets, and various other tools needed to complete assignments. 
Students should bring
Repairs: students can bring additional repairs
Gold wire, sheet, or scrap
Silver castings to fill porosity