Pencil Weave Chain Maille Jewelry
In this virtual workshop, students will learn the Pencil Weave. This weave results in a dense, rope-like chain.  Students will work on a necklace and bangle-style bracelet set while learning the following techniques: even-count Pencil Weave, odd-count Pencil Weave and continuous Pencil Weave. 
It is assumed that all students who enroll are proficient weavers, know the difference between Through-the-Eye and Around-the-Eye connections, and understand gauge, inner/outer diameter and aspect ratio.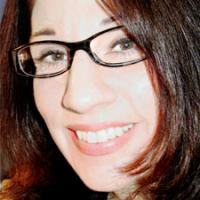 Jewelry designer and author, Karen Karon, has been weaving maille for well over a decade. She teaches chain maille and scale maille classes and workshops at Metalwerx School for Jewelry and Metal Arts, at local venues, and also provides private chain maille/scale maille instruction. In addition, Karen is a certified PMC (Precious Metal Clay) artisan. Karen has written articles for Art Jewelry, Bead Style, Bead&Button and Step by Step Wire Jewelry magazines and is the author of Chain Maille Jewelry Workshop and Advanced Chain Maille Jewelry Workshop, both published by Interweave. Her jewelry can be purchased at Loveday in West Concord, MA.
See Karen's work on her website (karenkaron.com) or visit her on Facebook and Instagram.
The following supplies will be used for course demonstrations and objectives. A suggested item and/or vendor has been provided below for reference. Click the vendor name (in red) to be redirected to a page where you can find the item. The quantities needed for each item are listed first. If ordering, please be aware that some items may come in larger quantities than needed for this class. We recommend not opening an item's packaging until the day of the workshop. Student participation during or in-between class sessions is strongly encouraged but not required - observers are welcome.
Hand tools:
2 x flat nose pliers (Rio Grande)

1 x steel jump ring mandrel - 4.0mm or 4.5mm (Otto Frei)*

1 x steel jump ring mandrel - 3.0mm (Otto Frei)*

1 x vision magnification if needed - optional (Rio Grande)

1 x bead mat - optional (Fire Mountain Gems)

1 x painters or masking tape

4 x twist ties
*Any rod-shaped item (dowel, knitting needle, pen, drinking straw, etc.) of the correct diameter will do.
Students may email Karen at [email protected] if they have specific ordering questions.
Metal (note there are two options for metal - sterling silver or aluminum):
I – Sterling Silver
PROJECT

ITEM

QTY

SOURCE

Necklace

Jump Rings, Sterling Silver, Round Wire, 18g, 6.0mm id (5.88 ar)

*30 jump rings per inch of chain

540*

Necklace

Jump Rings, Sterling Silver, Round Wire, 18g, 3.5mm id (3.43 ar)

4

Necklace

Toggle Clasp, 14mm Sterling Silver Ball-End

1

Bracelet

Jump Rings, Sterling Silver, Round Wire, 20g, 4.75mm id (5.86 ar)

**38 jump rings per inch of chain

380**
II – Anodized Aluminum (2 color spiral design – students can substitute 2 colors of their choice)
| | | | |
| --- | --- | --- | --- |
| PROJECT | ITEM | QTY | SOURCE |
| Necklace | Jump Rings, Anodized Aluminum, 18swg, 9/32" id, Color 1- Black Ice | 300 | |
| Necklace | Jump Rings, Anodized Aluminum, 18swg, 9/32" id, Color 2- Champagne | 200 | |
| Necklace | Jump Rings, Anodized Aluminum, 18swg, 5/32" id, Color 2- Champagne | 3 | |
| Necklace | Toggle Clasp, 18mm, Antique Pewter | 1 | |
| Bracelet | Jump Rings, Anodized Aluminum, 20awg, 3/16" id, Color1- Black Ice | 250 | |
| Bracelet    | Jump Rings, Anodized Aluminum, 20awg, 3/16" id, Color2- Bronze | 200 | |