Pearl Knotting Seminar
The course will focus on learning proper knotting techniques and termination methods. Class will begin with an overview of the types and shapes of pearls: freshwater, saltwater, cultured, natural, Akoya, South Sea, Tahitian, etc. (the variety and treatments are seemingly endless)! Students will then learn how to buy a good strand of pearls and how to spot fakes. From there, proper pearl care will be discussed.
Throughout the class students will focus on several termination methods, including crimping, attachment using a bead tip, attachment using French wire/bouillon (a delicate metal coil that protects the silk at the end of the strand - like a tiny slinky), and creating an endless necklace with no clasp at all. The workshop will also cover possible design challenges and solutions. During the course you will have an opportunity to purchase a wide variety of pearls, directly from the extensive inventory of Joseph P. Stachura Co., Inc. 
From 3:00pm to 4:00pm Mary will have a pearl sale!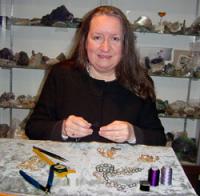 For 18 years, Mary Stachura is one of the partners in the firm, Joseph P. Stachura, Co., located in Uxbridge, MA. Stachura specializes in selling natural gemstone material and pearls. She travels to Japan, china, India, Taiwan, Thailand and Sri Lanka to bring the best material to her clients. Mary states, "I have always been attracted to pearls - any type of pearl. We are fortunate now to have an unequaled range of pearls - Japanese, Chinese, South Sea, Tahitian; freshwater, saltwater, and natural. I have travelled to many countries in Asia in the past 20 years. And pearls have always called my name and tuged my sleeve from across a crowded room. Pearls have a natural and unequaled beauty; nothing quite compares to their smooth skin and perfect density."
There is a $55 materials kit for this class which includes silk, beading tweezers, beading needles, glue, bead tips, clasps, nippers, and freshwater pearls. Kit fees are payable directly to Joseph P. Stachura Co., Inc. 
If students have taken this course before and would like to supply their own materials, please make a note in the comments section upon checkout or contact Metalwerx at [email protected].
Note to students bringing their own pearls:
You are welcome to bring any of the items above with you to class. Do not bring glass beads, as they are not appropriate for beginner stringers. If you have any questions, you can call Mary at 508-278-6525 or email [email protected]. If you are bringing your own pearls, please bring freshwater pearls that are 4mm or larger. While you can knot with any type/size of pearl, these will have more consistent holes and the overall size will be easier to work with.
Students should bring
pen

notebook 

optivisor - if you require magnification

good quality embroidery scissors or a pair of nippers

clean hand towel (terry cloth works nicely)