Pattern-Formed Enameled Vessels
In this virtual workshop, students will explore the ways with which a flat sheet of metal can be transformed into a volumetric object using nothing but a jeweler's saw and a carefully-designed template. Once formed, these vessels can be enameled using low-tech methods for adhering enamel to vertical surfaces. Finally, the instructor will cover strategies for enhancing the finished enameled vessel, including basic silver fabrication, cold connection methods, and small-scale wood carving.
This class focuses on design, technique, and craft, and is suitable for students of all skill levels.
For more information about virtual courses, visit our Virtual Course FAQ page. 
Please read the Materials & Tools tab!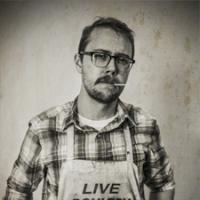 Nash Quinn is a metalsmith who works with a variety of materials, techniques, and formats. Originally from Wyoming, he received his BFA from the University of Wyoming, and his MFA from Edinboro University of Pennsylvania. He was a faculty member at Rowan University and Munson Williams-Proctor Arts Institute, and has worked, taught, and exhibited artwork at craft schools and jewelry academies nationwide.
The following supplies will be used for course demonstrations and objectives. A suggested item and/or vendor has been provided below for reference. Click the vendor name (in red) to be redirected to a page where you can find the item. The quantities needed for each item are listed first. If ordering, please be aware that some items may come in larger quantities than needed for this class. We recommend not opening an item's packaging until the day of the workshop. Student participation during or in-between class sessions is strongly encouraged but not required - observers are welcome.
Metal/raw materials (instructor suggest 2+ sheets for practice or multiples): 
Hand tools:
1 x jewelers saw - 4" depth (Rio Grande)
1 x pack saw blades - 3/0 (Rio Grande)
1 x rotary tool - flex shaft, drill press, etc. (Rio Grande)
1 x drill bit - #60 (Rio Grande)
1 x drill bit or ball bur - for de-burring holes
1 x chasing or ball-peen hammer (Rio Grande)
1 x steel block / steel anvil (Rio Grande)
1 x center punch (Rio Grande) 
1 x chain nose pliers (Rio Grande)
1 x sandpaper - approx. 320 grit (Amazon)
1 x scoring tool - optional (handmade by Nash)
Torch setup:
1 x fireproof area - steel sheet, tiles, etc. (Amazon or Home Depot)
1 x torch - suitable for annealing (Rio Grande or Rio Grande)
1 x pickle - sodium bisulfate or citric acid (Rio Grande or Amazon)
1 x brass bristle brush (Rio Grande)
1 x crock pot or lidded glass container (Rio Grande or Amazon)
1 x tempered glass container or sink - for quenching and rinsing
1 x liquid hand soap or pumice - for cleaning metal
Enameling supplies:
your preferred vitreous enamel powders (E-namels)
variety of sifters - approx. 1" diameter in 80 mesh (E-namels)
enamel kiln - min. 4"x4" interior recommended (Rio Grande)
variety of kiln furniture - trivets, kiln fork, etc. (Enamel Ware.)
steel wire/mesh screen - should fit your kiln (Enamel Ware.)
unscented aerosol spray or 60/40 Klyr-fire/water (Amazon)
atomizer spray bottle - if using Klyr-fire mix (Amazon)
6"x6" mild steel sheet 20g - optional for custom trivets
Other/miscellaneous items: 
hard work surface
printer - to print template
rubber cement