Jewelry 2
Continue your journey into the exciting world of metals with Jewelry 2. Emphasis for this course will be strengthening skills gained in Jewelry 1 such as sawing, soldering, fabrication, using the flex shaft, and to introduce additional methods that will build upon what you have already learned to create excitement and momentum to enhance designs!
Topics that will be emphasized include, but are not limited to:
Stone setting- specifically flush setting, tube setting, and unique bezel settings to add a little sparkle and color.
Various kinds of patinas, which really can change the look and mood of a completed piece of jewelry.
Enameling techniques with a focus on color and exploration.
Findings such as ear wires, handmade clasps, and chain links.
As time allows, students will work on a project of their own design that incorporates techniques learned in the course.  If you'd like to see more of Kelly's work, please visit her tumblr page.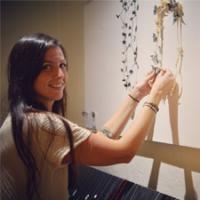 Kelly Jean Conroy graduated with a BFA in Art Education and painting from Syracuse University in 2005 and a MFA in Jewelry Metals from the University of Massachusetts Dartmouth in 2013. She has taught metals and enameling at the Worcester Center for Crafts, and Jewelry I and II courses at UMass Dartmouth. She currently teaches High School Metalsmithing at Lincoln Sudbury Regional High School in Sudbury, MA, as well as continuing education courses in Metals at Massachusetts College of Art and various classes at Metalwerx.
She works out of her studio in West Roxbury, MA and her art jewerly pieces focus on life cycles in nature and finding beauty in unique places. Her specialties are enameling, working with natural materials: carving bone, piercing mother of pearl, and casting. She is included in Showcase 500 Rings by Lark Books, and is represented by Equinox Gallery in San Antonio, TX. Her website is kellyjeanconroy.com and her wearable work can be found at tulipstokiss.etsy.com. To see Kelly's process, please visit her blog tulipstokiss.tumblr.com
There is a $40 materials fee payable upon registration. The materials kit includes silver sheet, wire, and tubing as well as stones, a bur, copper for samples, enamels and other miscellaneous supplies.
Students should bring
Sketchbook and pencil
Any metal and ideas they have
Any stones - faceted or cabochon
Favorite tools - small toolbox
Sawblades- 2/0 and 4/0