Jewelry 1
This course is an introduction to the secrets of making jewelry and working with metals. All of the basics to making your own jewelry will be covered. Students will learn to saw and pierce, file and sand, texture, rivet, solder, patina, and finish metal. This class will also cover basic bezel settings.
Students will learn to work with copper, brass, and sterling silver. Class sessions will focus on creating samples as well as finished pieces such as key ring charms, pendants, and rings. This is a beginner course and no prerequisite skills are required. Students already familiar with jewelry making techniques are welcome to join the class to brush up their skills and learn a new trick or two!
If you'd like to see more of Avery's work, please visit her website averylucasart.com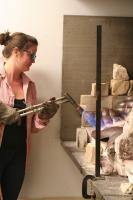 Avery Lucas received her MFA in Jewelry/Metals at the University of Massachusetts - Dartmouth in 2012. Lucas is currently a studio artist, teacher, production jeweler, and mold maker in Rhode Island. She has taught metals and design at University of Masschusetts Dartmouth and Rhode Island College. Lucas has also lectured and taught workshops at East Carolina University, Rhode Island College, State University of New York - New Paltz, and at the Fuller Craft Museum. In addition to being a Niche Award finalist, her metal work won "Best Of" Contemporary Art Month for a featured exhibition at Equinox Gallery in San Antonio, Texas. Lucas's one of a kind work is sold online and in galleries nationally.
A materials fee of $50 is payable upon registration. It includes brass and copper sheet and wire, Sterling silver sheet, saw blades and other miscellaneous supplies to complete projects.
Students should bring
Metalwerx has most tools needed for this class, however if you have some favorite tools, please feel free to bring them. Other general supplies should include:
Small hand towel
Tool-box (shoe box, plastic tackle box etc.)
Ruler
Sharpie marker
A sketchbook, pens and pencils.
Cabochon stone (These can also be purchased at class)