Jewelry 1
This introductory course focuses on developing fundamental hand skills, good studio habits, and an appreciation for quality craftsmanship. Students will learn essential fabrication techniques by designing and producing one-of-a-kind jewelry.
Over the semester, students will learn to cut through metal with a jeweler's saw, pierce out shapes, solder and anneal (soften) metal with a torch, texture surfaces with hammers and roller print a pattern onto metal, and how to bezel-set cabochon stones. Time will be spent practicing on sample pieces, as well as applying these skills to making a textured ring and a pendant with a set stone.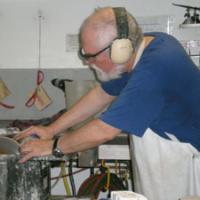 David Baird has been making jewelry for nearly four decades. He received his bachelor's degree at the Evergreen State College, and his MFA from The School of the American Craftsman at Rochester Institute of Technology. He also has a GG (Graduate Gemology certificate) from the GIA.
David sells his work nationally and has taught classes and workshops for at least 30 years around New England including Metalwerx, DeCordova Museum School, and Lexington Arts and Crafts Center. More recently he has been developing specialized jigs to make bench processes easier for his students. The Directed Open Studio courses at Metalwerx are led by David because of his vast knowledge about the many facets of metalworking.
Over the past 15 years, David has expanded his repertoire to include lapidary cabbing and carving. He now devotes his time between two studios, both lapidary and jewelry, taking on commissions by request. His studio is located at the Waltham Mill Buildings, near Metalwerx where still he teaches regularly.
A $65 materials kit, payable upon registration, includes copper, sterling silver, solder, bezel wire, a cabochon stone and saw blades to complete projects.
Students should bring
Students should bring:
Small hand towel
Tool box (shoe box, plastic tackle box etc.)
Ruler
Ultra fine point Sharpie permanent marker
Sketchbook, pen and pencil