Intro to Torch-Fire Enameling: Basics and Sifting Techniques
GET FIRED UP! In this demo-focused virtual workshop students will learn how to effectively use a torch to fire enamels, making it a very accessible home-studio process! Different options for efficient and safe home/studio setups will be discussed and explored. Students will be introduced to the basics of enameling; what types of metals to use, how to prepare metal, the different types of enamel available, how to apply enamel, and what to look for while firing. After the basics are covered, students will learn multiple sifting techniques that will allow them to create dynamic designs in enamel. Inspirational work made by enamelists and metalsmiths will also be shared.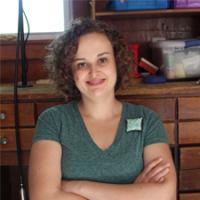 Marissa Saneholtz makes narrative based jewelry and objects using humor and sarcasm to comment on gender roles in American society. She has been published in several books, including Art Jewelry Today II edited by Jeffery Snyder, Humor in Craft by Brigitte Martin, and Narrative Jewelry: Tales from the Toolbox by Mark Fenn. Her work has been exhibited both nationally and internationally and can be found in multiple collections including the Racine Art Museum, the Mint Museum in Charlotte, NC, the Enamel Arts Foundation in Los Angeles, CA, The Arkansas Museum of Fine Arts in Little Rock, AR, and the Crocker Art Museum in Sacramento, CA.
The following supplies will be used for course demonstrations and objectives. A suggested item and/or vendor has been provided below for reference. Click the vendor name to be redirected to a page where you can view the item. The quantities needed for each item are listed first. If ordering, please be aware that some items may come in larger quantities than needed for this class. We recommend not opening an item's packaging until the day of the workshop. Student participation during or in-between class sessions is not required - observers are welcome.
Enamels:
Enamels (at least 3 opaques below): ​
Enamels (at least 3 transparents below): ​
Enameling tools:
Hand tools:
Metal/raw materials:
Other/miscellaneous items: 
yellow highlighter
pieces of paper - old junk mail, etc. for stencils
comet or pumice powder
distilled or filtered water
safety glasses
quart size ziploc bag
scissors
rubber gloves - if using Armour Etch
tin can or extra fire bricks for make a "kiln" - optional
plastic containers with lids - larger than your tiles
small paint brush - 1 to 2
#2 pencil
eye dropper
particulate dust mask - at least an N95
old magazines - to work on top
paper towels - one roll
scotch-brite pads - 1 to 2