Intro to Enameling
If you are an experienced jeweler or metalsmith and have always wanted to explore the possibilities of enameling, but weren't ready to take an intensive course, this workshop is the one you have been waiting for. Kelly will introduce students to both kiln-firing and torch-firing enamels, making this process completely accessible to anyone with a torch in their studio. After learning the basics of creating a solid, well applied color, students will learn ways of incorporating imagery with stencils and sgrafitto techniques, as well as including foils and other materials for visual interest.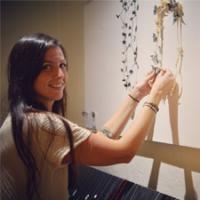 Kelly Jean Conroy graduated with a BFA in Art Education and painting from Syracuse University in 2005 and a MFA in Jewelry Metals from the University of Massachusetts Dartmouth in 2013. She has taught metals and enameling at the Worcester Center for Crafts, and Jewelry I and II courses at UMass Dartmouth. She currently teaches High School Metalsmithing at Lincoln Sudbury Regional High School in Sudbury, MA, as well as continuing education courses in Metals at Massachusetts College of Art and various classes at Metalwerx.
She works out of her studio in West Roxbury, MA and her art jewerly pieces focus on life cycles in nature and finding beauty in unique places. Her specialties are enameling, working with natural materials: carving bone, piercing mother of pearl, and casting. She is included in Showcase 500 Rings by Lark Books, and is represented by Equinox Gallery in San Antonio, TX. Her website is kellyjeanconroy.com and her wearable work can be found at tulipstokiss.etsy.com. To see Kelly's process, please visit her blog tulipstokiss.tumblr.com
There is a $55 materials fee for this course payable upon registration. The materials kit includes copper and fine silver, communal use of all Metalwerx enamels, silver and gold foils, "wafers" and glass threads for inclusion firings, as well as other miscellaneous materials needed to complete projects.
Students should bring
a sketchbook and writing implement
ultra fine-tip sharpie marker
tiny glass beads (seed beads are a good size) to include in fired pieces
extra fine silver if you would like to focus on using this metal. NOTE: a small amount of fine silver will be provided in materials kits, but the majority of your samples will be made on copper.