Flush Setting 101
Learn the fundamentals of flush setting round faceted stones in this demo focused virtual workshop. Working from samples in brass Everett will demonstrate how to ornament your work step by step setting multiple stones. During this three-hour course students will learn how to make the tools necessary to flush set stones, properly lay out a setting pattern on curved surface, cut seats, and form metal over the stones to keep them in place. Time will be left at the end of the demonstrations for questions and group discussion.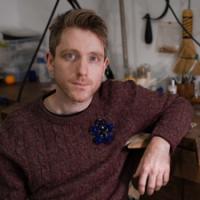 Everett Hoffman is an artist, writer, and independent curator. He is currently a Resident Artist at Penland School of Craft, where he lives with his partner Adam and their cat Snarf. He received his MFA from Virginia Commonwealth University 2018, and BFA from Boise State University 2013. Everett was a 2018-19 Artist in Resident at Arrowmont School of Art and Craft, and a Resident Artist at the Baltimore Jewelry Center. His current body of work examines everyday material debris reconstructed within the intersecting narratives of identity, gender, and sexual desire. Everett's work has been exhibited throughout the United States and internationally including the Virginia Museum of Contemporary Art, Contemporary Craft Museum, Pittsburgh, PA, Soil Gallery, Seattle, WA, and the Benaki Museum in Athens Greece.
View Everett's work at www.everetthoffman.net.
https://www.riogrande.com/product/all-natural-beeswax-stick/110022GP/?code=110022The following supplies will be used for course demonstrations and objectives. A suggested item and/or vendor has been provided below for reference. Click the vendor name to be redirected to a page where you can view the item. The quantities needed for each item are listed first. If ordering, please be aware that some items may come in larger quantities than needed for this class. We recommend not opening an item's packaging until the day of the workshop. Student participation during or in-between class sessions is not required - observers are welcome.
Metal/raw materials:
Hand tools:
Other/miscellaneous materials:
hard work surface

safety glasses

pencil, Sharpie, notebook