Enameled Florals
This demo-focused virtual workshop has a bit of everything - enameling, silver fabrication, and tap-and-die connections. Students will learn how to create a fanciful flower out of enamel, copper, and fabricated sterling silver. 
Starting with copper sheet, the class will teach how to cut out and form simple copper leaves and petals, and then how to enamel them using basic sifting techniques. The flower's stem will be made of sterling silver wire and tubing, and participants will learn useful tips for small-scale silver fabrication and soldering, including drawing down tubing and wire.  Finally, the flowers and foliage will be attached to the stems with threaded connections created by tap and die.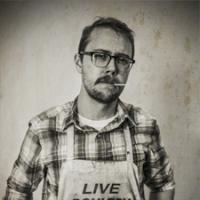 Nash Quinn is a metalsmith who works with a variety of materials, techniques, and formats. Originally from Wyoming, he received his BFA from the University of Wyoming, and his MFA from Edinboro University of Pennsylvania. He was a faculty member at Rowan University and Munson Williams-Proctor Arts Institute, and has worked, taught, and exhibited artwork at craft schools and jewelry academies nationwide.
The following is an approximate list of the materials the instructor will be demonstrating with. Students should not feel compelled to buy any of these materials beforehand. If students are unsure about buying or using these materials, the instructor suggests they wait until after the class before purchasing - that way they can see how the items are used and can ask questions first.
Enameling materials and tools:
22g. copper sheet - 3" x 3"

20g copper sheet - 3" x 3"

Aqua-net unscented hairspray

Various sifters, approx. 80 - 200 mesh

Various vitreous enamels

Enameling kiln

Various kiln furniture - trivets, spatula, fork, screen, etc.

20g mild steel sheet for custom trivets - 3" x 3" 

Mild steel rod, approx 3/32" dia. - 3" long

Jeweler's saw

Rubber cement

Dapping set
Fabrication materials and tools (note various diameters of wire and tubing will be used):
Sterling silver wire - approx 10g - 16g (will be drawn to size)

Sterling silver tubing - approx. 1.5 to 3mm outside dia. (will be drawn to size)

Hard, medium, and easy wire solder

0.032" 304 stainless steel straightened wire, spring temper (for pin stems)

Drawtongs, round draw plate, and homemade draw bench

Rolling mill with square wire rollers

Selection of jeweler's needle files

Selection of jeweler's pliers

Soldering aid - cross lock tweezers, 3rd arms, etc.

Various small hammers/mallets - chasing hammer, nylon hammer, rawhide mallet

Measuring and marking tools - dividers, calipers, ruler, scribe, Sharpie

#1-60 numbered drill bit set

Flex shaft

Miter-cutting vise

Tap-and-die set, #4-40 - #0-90 (Amazon)
Torch setup:
Other/miscellaneous items: 
eye protection

dust mask

fan with open window or ventilation system