Bicycle-Chain Style Bracelets
Hone your small-scale cold fabrication skills by creating a fully articulating "bicycle-chain" style bracelet in this two-day workshop! Throughout the scope of this project, students will draw upon fundamental metalworking skills while applying them toward a kinetic piece of jewelry where each hand-fabricated part fits together like a piece of a puzzle (or a bicycle-chain)! Among the techniques covered, special attention will be paid to layout practices, quickly drilling a multitude of holes on a relatively small surface area, and riveting for maximum fluidity and movement! Texturing will additionally be covered in depth and student will have the opportunity to choose from a multitude of mark-making options.
Thick rectangular stock will be the base metal student will start with, but numerous wire shapes and alterations can be attained through the use of draw-plates, rolling mills, and hammers.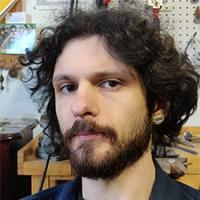 William Vanaria is a Massachusetts based artist with a penchant for oddball materials. His work utilizes traditional metalsmithing techniques and a wide verity of non-traditional materials to produce jewelry which both questions and comments on notions of romanticism, value, fakery, and the hierarchy of materials present within modern day consumer culture. Through his work he pushes for a broader system of value which has been formulated though experience, consideration, and critical thinking.
William received a Bachelor of Fine Arts degree from the Massachusetts College of Art and Design with a concentration in "Jewelry & Metalsmithing" in 2012. Afterwards, he spent time working within the jewelry industry and volunteering as a teacher's assistant for various art institutions. He found that the latter was much more fulfilling, so he went on to further his education within the arts and to pursue a career in teaching. William received his Masters of Fine Arts degree from the University of Massachusetts: Dartmouth in 2016; once again with a concentration in "Jewelry & Metalsmithing."
There is a $35 materials fee for this course which is payable upon registration. The materials kit includes sterling silver rectangular stock, sterling silver square stock, sterling silver round wire, 24g copper sheet, 1.5mm drill bit, 2.5mm setting bur, pin vise, and other miscellaneous consumables items needed for workshop objectives.
Students should bring
studio apron

studio towel

notebook or sketchpad

pen or pencil

closed-toe shoes - required in the Metalwerx studio

lunch - Metalwerx has a fridge, toaster oven, and microwave