Bead Embroidery Techniques
This fun virtual course offers students of every level the chance to learn bead embroidery techniques utilizing the pre-made holes of a used baseball! This workshop is to be considered a creative exploration of upcycling, as students will learn how to skin a worn out baseball and stitch back together its two halves with beads, and successively embellish it, with the aim to produce a unique piece of art. Students will navigate through their own personal taste and use beads of their own choice in the making of a wearable piece or a decorative one.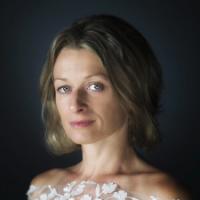 Italian multidisciplinary artist Mara Colecchia is the creator of Maracole Bijoux, a line of hand-woven ornaments made with fine Japanese seed beads, semi precious stones, up cycled materials and repurposed vintage beads.
Combining a playful narrative with bead-weaving, Maracole is creating delightfully crafted ornaments, limited edition collections , made available for fashion styling, photo editorials, galleries and boutiques.
Bio:
Born and raised in Urbino, an art town in mid-northern Italy, I have been exposed to an incredible amount of influential art, mostly from the Reinassance, and I had the chance to experiment with many and various artistic practices over decades ( such as Venetian Mask making, performing, sculpting, painting a fresco with Egg Tempera, glass decoration with varnish, and illustrating with water color and ink).
I can say that my first form of 3dimensional creative expression was stitching (at the age of 6) and I am not surprised that my passion for textile and weaving re-emerged lately in life.
In 1999 I earned a bachelor degree as a "Maestro D`Arte" from La Scuola Del libro, in Urbino, with a specialization in drawing animation.
In 2005 I earned a master degree from the European Institute of Design in Roma (Roma IED) to complement my education in animation and gaming.
I worked in the animation industry in Rome till 2009, when I took the chance to relocate to Los Angeles, California, to study screenwriting at the
"New York Film Academy".
There l had many artistic pursuits, being an active member of The Los Angeles Art Association from 2012 to 2017, till I finally explored wearable art.
I learned how to weave seed beads in late 2018, and Maracole Bijoux has become my main artistic endeavor ever since.
Since 2022 I am teaching bead weaving techniques at Baltimore Jewelry Center, Pocosinarts Center, and Ojai Art Center.
The following supplies will be used for course demonstrations and objectives. A suggested item and/or vendor has been provided below for reference. Click the vendor name to be redirected to a page where you can view the item. The quantities needed for each item are listed first. If ordering, please be aware that some items may come in larger quantities than needed for this class. We recommend not opening an item's packaging until the day of the workshop. Student participation during or in-between class sessions is not required - observers are welcome.
Beading materials:
1 pack x beading needles - size 12 (A Cherry On Top)

3 colors x Miyuki seed beads - 1 tube per color (Beadabeada)

3-5 x larger decorative beads - size 6mm to 12mm (Michaels)

1 spindle x Berkeley beading thread or fishing thread - size 8 (Fish USA)

1 bag x stuffing poly fill (Michaels)

1 pack x large round sequins - optional (Amazon)

1 x 600 glue - optional (Fire Mountain)

2 x magnet rings - optional (KJ Magnetics)

1-3 x used or new baseballs
Other/miscellaneous items: